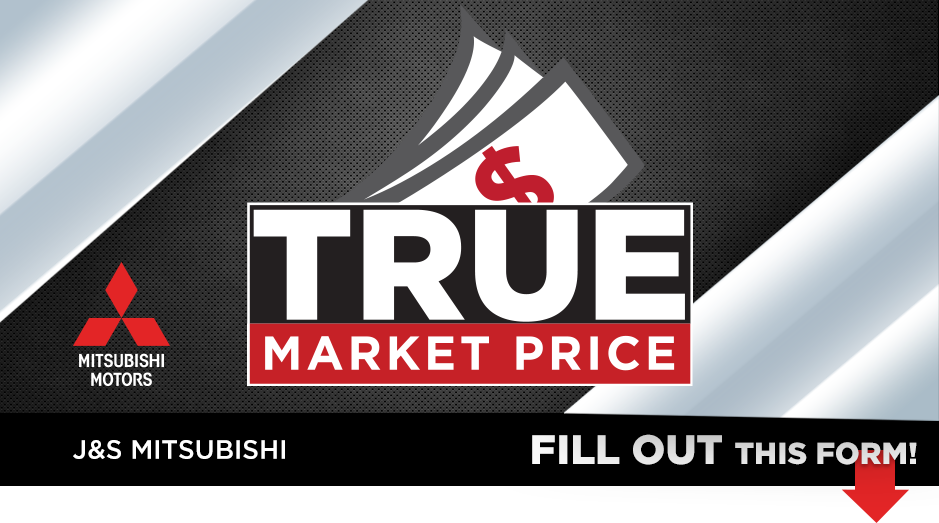 Get a Fair Price on Your Next Car Purchase
At J&S Mitsubishi, every car in our inventory is priced right, thanks to our True Market Pricing! What this means is that you're sure to get a great deal on your next vehicle. For more information, call 609-403-0238 or fill out the form on this page.
Call 609-403-0238 now!

What is True Market Pricing?
True Market Pricing keeps pricing competitive to offer you the lowest prices possible. True Market Pricing compares prices at other dealerships. By knowing what others are paying, you can be sure you are getting the best deals at J&S Mitsubishi.
How does True Market Pricing work for me?
True Market Pricing means you don't have to worry about haggling or shopping around for the lowest price. True Market Pricing takes care of that for you! At J&S Mitsubishi, we update our prices frequently so that they reflect the most recent market changes. Remember, the True Market Price is the low market price at J&S Mitsubishi. This means you can get an unbeatable deal on any of the following new vehicles from our inventory:
With optional front crash prevention and other safety features, the 2019 Mitsubishi Eclipse Cross was an IIHS safety pick. The 2020 model also boasts numerous safety features, as well as a redesigned appearance and new Special edition model.  
This reliable compact is the most fuel-efficient non-hybrid car in America, and is priced right for the value that you get with this model. Complete with automatic climate control and up to 43 highway MPG, the Mirage is the perfect auto solution for single riders and families alike.
If the traditional Mirage doesn't have enough features for you, the Mirage G4 may be the car you are looking for! With the most competitive fuel economy of any 2020 model on the market, J&S Mitsubishi makes sure this car is priced right through our True Market Pricing.
With the right combination of power and style, the 2020 Outlander received a perfect 5/5 rating from leading auto resource cars.com. With multiple varieties, such as the traditional, PHEV, and Sport, there is an Outlander that is priced right for everyone.
The Outlander PHEV has some of the most advanced safety features that come standard with every model of the vehicle. Its achievements in safety, combined with a battery-powered engine, makes the PHEV a bargain at its True Market Price from J&S Mitsubishi.
Standing apart from all other SUVs is the Outlander Sport. This compact SUV provides enough cabin and trunk room to fit everything you need for road trips, sports practices, or any other purpose. Car buyers from Philadelphia to Ewing can find the 2020 Outlander Sport at its True Market Price at J&S Mitsubishi.
If you're looking for a pre-owned vehicle instead of a new one, we've got you covered there, too!  J&S Mitsubishi's selection of pre-owned cars and SUVs are also available with our True Market Pricing, so you know you're getting the best deal on your purchase!
Stop in or contact us today! We can help you find the car you always wanted. For more information, call 609-403-0238 or fill out the form on this page.
Make an Inquiry
* Indicates a required field